I keep seeing this 4 cups. Ok last tarot reading.
Remember, you have the power to shape your future as you wish!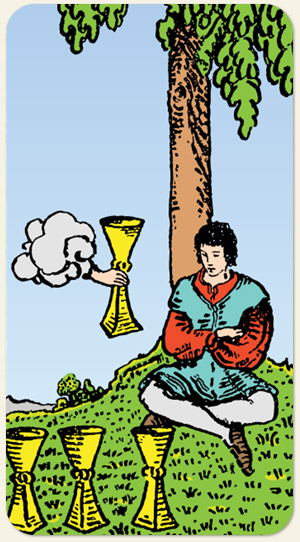 The Four of Cups
In the future position, the IV of Cups suggests we are about to pull away from the offering of others. We may not understand our own position on the matter, but we do know that these things are not what we want. At this time, we have gained a passive attitude and seek solitude to understand the meaning behind our actions. We are pausing to reflect on a cause or purpose, and refuse to allow the influence of others to break our withholding stance.
When the IV of Cups appears in the future position, we may be feeling self-absorbed. We see no other way fit, than to ignore the advice or good intentions of others for the sake of understanding our own personal viewpoint. We lack motivation and must find it within self to imagine what the future holds.
Overall Interpretation
The Devil, the Magician and the Four of Cups go from negative, to positive, to neutral. This is generally a good spread, because it tells us you can shape your destiny by growing from mistakes and challenges in your past and seizing opportunities in your present. Just be sure to take action.
A period of apathy and boredom is coming to an end. Seek out exciting events, find new challenges and new stimulations. A new direction you pick will be a good one!
http://www.freetarot.com/reading/3/?c=1501C4&h=Pto8RNneqjU&step=4